Two weeks ago I was lucky enough to be sent to Microsoft TechEd by the company I work at. It was such a busy week and another week of catching up with real life I am just now getting around to blogging about TechEd.
Warning: Long blog post!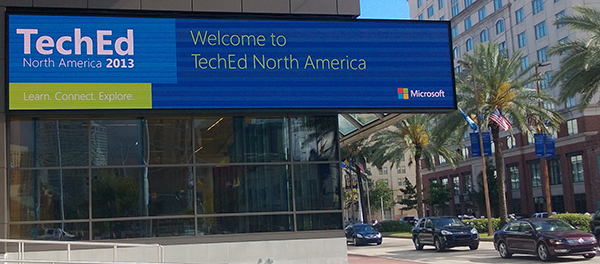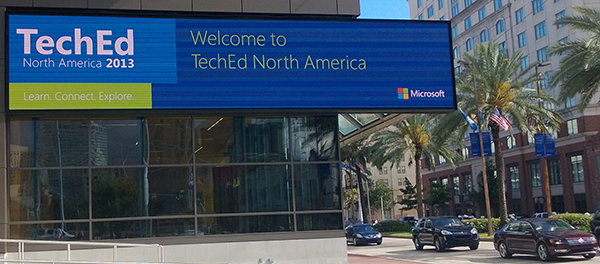 This summarization of TechEd does not do a justice to how fantastic the experience is and how much you learn while there.
Day -1 – Saturday June 1st:
This year at TechEd I decided that I wanted to do a pre-con, normally I come in Day 0 of TechEd but this year I got a Day -1 since I flew in on Saturday. This was a fantastic experience coming in a bit early, looking around at convention center then meeting up with other friends who are at TechEd a day early.
My day started at 6:00am when I had to wake up to prepare for my flight to New Orleans. I arrived at the airport shortly after 7PM, my flight wasn't until 8:50PM so that provided me a bit of time to relax and hang around with my friends who were going to TechEd with me. We joked around the entire way there was we had a good flight and layover in Houston Hobby Airport which was very quick but enough time to grab a bite to eat. We arrived in New Orleans at 1:25PM and arrived at the hotel shortly after 2 PM.
First thing on my agenda was opening box of #TheKrewe swag we were giving away that year. It was an interesting experience opening a 20 pound box of lanyards but they turned out fantastic and it was great to see #TheKrewe representing.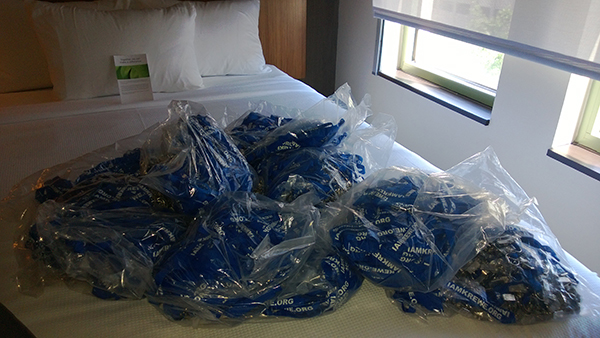 After a short break to re-charge in the hotel we decided to meet up and start browsing the convention center and surrounding area, while browsing the convention center we decided to sneak around a bit to get a glimpse into the next day. We walked over near the registration area to check things out to get a sneak peak.
Once we wrapped things up there we went and met up with a few of #TheKrewe to pickup some 190 Octanes, all I can say is WOW! While drinking the 190 Octanes I got to hang out with some good friends I hadn't seen for a year!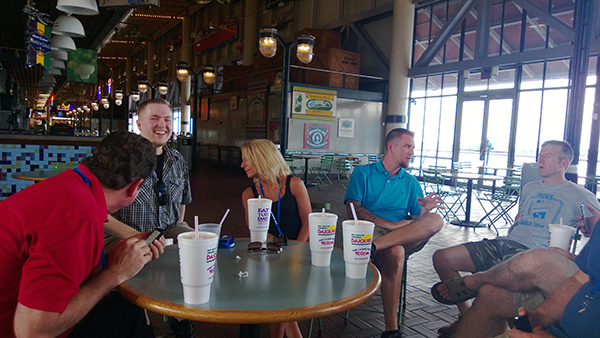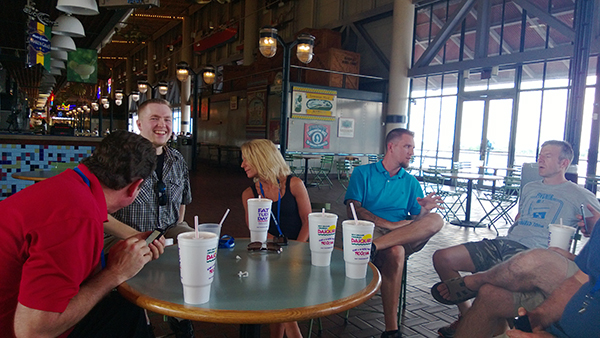 Once we got a big group of us together we moved our way down to grab some dinner at Drago's and ended up having 25+ people show up for our get together. I knew I had a big day ahead of me the next day so I wrapped things up around 10PM, headed back to the hotel and crashed.
Day 0 – Sunday June 2nd
Day 0 hit, and it hit hard having to wake up at 6AM to jump in the shower, get breakfast and get registered all by 9AM when my Pre-con started. I arrived a bit early to my session which was Lessons from the Field: Useful Hacker Techniques for Administrators and I was able to get settled in, this was a very challenging day to focus because I was on twitter keeping up with all of my friends and trying to focus on a topic that was WAY over my head. I have very few "hacker" skills but this was an extremely useful session. The best part was they provided all of their tools for later use to the attendees to us in their own networks!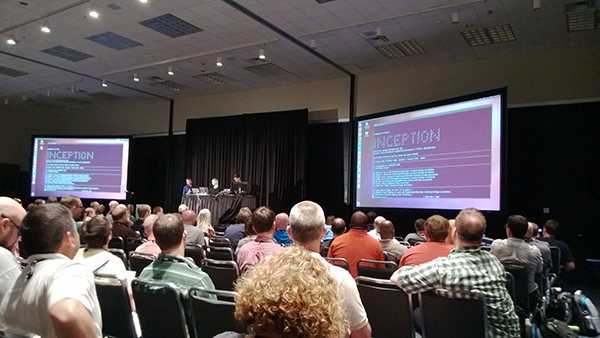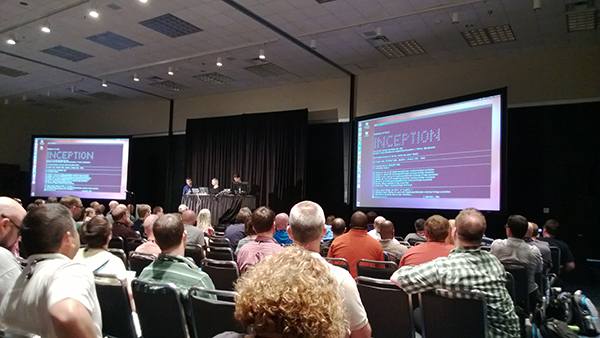 After awhile in the presentation I did lose my attention span, but it wasn't too long till the Lunch break so I snuck out early to get in line for my Surface, to my surprise there was already a line and people with Surfaces! I hoped into line and about 10 minutes later was a proud owner of a Surface Pro and a Surface RT for my mother! I grabbed lunch then headed back to the pre-con to round out my day at TechEd. Once the Pre-cons ended the real fun was about to begin for the day.
Evening Events:
Sunday was #TheKrewe Sunday Meet 'N Greet, this year it was a lot less meeting and greeting and a lot more of a crazy party with an amazing live band! I do not know the exact attendance numbers but we had approximately 600 people crammed into this bar with live music, I did get to meet TONS of new people, very few I got to have a conversation with but that is what the rest of the week was for!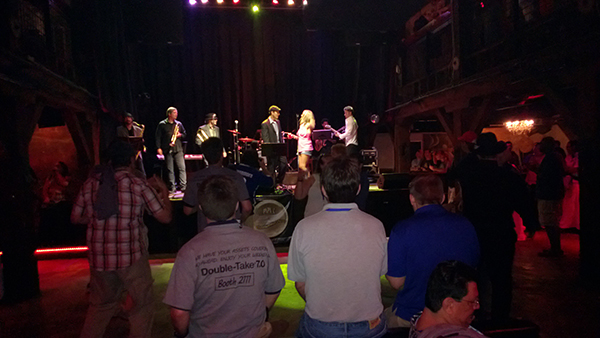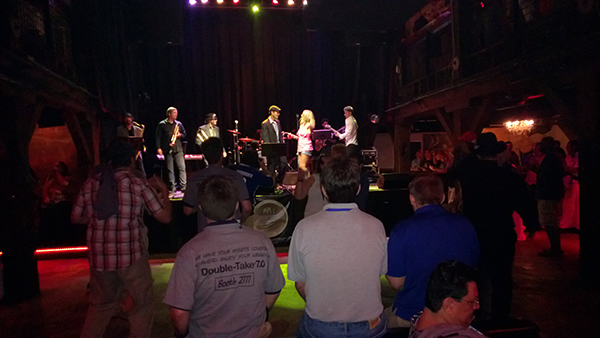 Day 1 – Monday June 3rd
When I woke up at 6am on Monday all I could think is… oh man this conference is just starting I still have to finish out this week! I've done tons of learning at the pre-con and met tons of new people already at these events. What else could be in store for me? Well on Monday I was extremely busy, I was a bit disappointed in my in-ability to attend more than one session on Monday but my time was spent on the show floor networking with vendors and preparing for #TheKrewe Monday Mixer that I was planning that night.
First thing in the morning was the keynote, which is usually cool but little new information, this year Microsoft amazed me by announcing Server 2012 R2, System Center 2012 R2, SQL Server 2014 and many more things. This was cutting edge announcements with Windows 8.1 and everything new coming down the line at super fast speeds! Once these announcements were made I knew this week was going to be crammed with more learning than I could ever imagine.
I was lucky enough to talk to a few vendors about backup solutions which was one of the items on my check list that week and look at other amazing products some of the vendors were showing. I have to say the best part of this night was definitely the fact that I got to be in the session when Jeffrey Snover announced the PowerShell Desired State Configuration at first listening to it I had no idea what he was talking about, but as the week went on I came to realize how amazing this feature is going to be.
Evening Events:
That evening I got to spend about an hour at the Welcome Reception talking to vendors before heading to The Rusty Nail to get setup for #TheKrewe Monday Mixer. I was amazed at how much work it was to make The Monday Mixer go off without a flaw, and I got much more respect for Michael Bender for the work he has put in over the years to get #TheKrewe to where we are now. It takes a lot of passion and hard work to pull off an event and by the amount of people I met that evening I would say it was a huge success.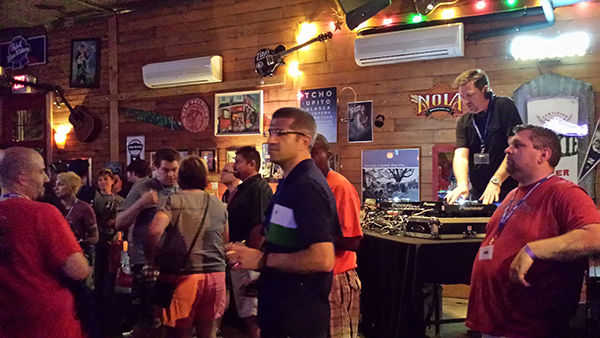 Day 2 – Tuesday June 4th
After a late night at #TheKrewe Monday Mixer I still had to get myself moving nice and early to get my shower in, get breakfast and get to my morning sessions which I was amazed I was still able to do after how the week had been going. I knew this day had a lot of great things in store for me because I would be getting to attend a lot more sessions about all of the fantastic features they announced the day before. I spent a lot of my time on the show floor but I made certain to hit quite a few sessions too. While attending these sessions I was also trying to keep up with #TheKrewe on twitter who were sharing things they were learning in their own sessions which were mind blowing like Windows 8.1 RT having tons of 3rd party VPN support coming out and Server 2012 R2 Online De-duplication.
Evening Events:
This evening I knew I needed to rest a bit because the next day would be a very late night. However I still was going to hit the two events most important to me!
The first thing on my evening agenda was Meet The Experts at the Expo Hall, I was thrilled when I got to hang out with some of the brightest and most influential minds in PowerShell and talk with @ScriptingWife and @ScriptingGuys. Not only did I learn tons of new things I needed to do with the Indianapolis PowerShell User Group, I also got to have a nice conversation with The Scripting Guy Ed Wilson about the Desired State Configuration and was told about an Instructor Lead Lab he would be leading later in the week about the exact topic. At the end of the Meet the Experts I was able to go join other brilliant Microsoft Minds at the #CertNation party the @MSLearning Community was throwing.
Day 3 – Wednesday June 5th
Wednesday I woke up well rested since I headed back to the hotel a bit early and I got to sleep at a reasonable hour. I did miss breakfast because I was squeezing every minute of sleep I could in to prepare for a day of massive learning! I started my day out in the Microsoft SharePoint 2013 and office 365 Upgrade and Migration Strategy session which at first I was unsure if I wanted to stay or not because it wasn't a technical session it was very high level about things to consider. However I sat through it and found it extremely beneficial as I got to see what the managers are expecting to see when I am performing consulting work for something like this and it gave me a completely different perspective.
All of the other sessions I wanted to attend were being recorded so I decided it would be an ideal time to hit the expo floor and network with vendors and promote the Indianapolis PowerShell User Group, I spent quite a bit of time wondering around talking to them and exploring potential sponsors. This was a very productive day as I made many business contacts who not only am I interested in purchasing their product they may be able to help make the User Group grow much larger.
Evening Events:
Tonight was the night of the biggest, craziest party of the week, however I had a stop to make first by the Thycotic party. Sadly upon my arrival I discovered it was one of those fantastic New Orleans non-accessible bars that there was no way I could get into. It was a minor inconvenience as I went and got in line for the next party.
Luckily I was a few blocks away from the Microsoft Springboard Party so I went over there and started hanging out with a few of my friends from #TheKrewe. While waiting I got a chance to network with many new people, and people I had not had a chance to have an actual conversation with that week. Time flew by and the party started. They had some of the most amazing food, music and overall a fantastic time! During my evening at the Springboard Party I was lucky enough to meet one of the coordinators for TechEd Europe and talk about various topics relating to it.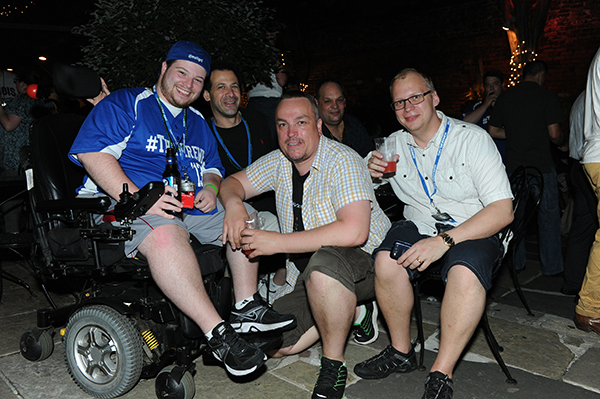 Day 4 – Thursday June 6th
This was by far the hardest morning to wake up, after the Springboard Party me and various other Krewe members went along Bourbon Street which kept me out until about 2AM so it was fantastic networking, and a fantastic time but a really rough time waking up. However I was determined to get up and make it to the first session which I did!
The first session I attended on Thursday was the Instructor Lead Lab that Ed Wilson was presenting about the Desired State Configuration, this was amazing to get hands on with PowerShell V4 and to play with what will soon be cutting edge technology hitting the market.
This was a very learning intense day because I also attended Mark Russinovich's Session titled License to Kill: Malware Hunting with the Sysinternals Tools. Which I had attended last year and it was just as amazing as the first time around, whenever you watch Mark present you are going to learn a new bit of information that is valuable.
After having crammed in those amazing sessions I knew I needed to still talk to a few backup vendors so I had to pull myself away from the sessions to wrap up my evaluation of software for the week. I was thrilled to talk to technical resources from multiple companies so that I could select the best solution for them. As the show floor closed down, I headed back to my hotel to relax for a bit, pack and prepare for the closing party.
Evening Events:
I had all of my things packed up and it was time for the last party of TechEd, the closing party this year was thrown at The Mercedes-Benz Superdome, which by far was a really cool experience but didn't get anywhere near the cool level as last years closing party. They had tons of food, live music and tons of cool things going on such as an appearance by Drew Brees throwing passes on the field, and a 2 song set by Tina Turner. Some minor cool things but it could have been much better.
The Summary
Overall it was an amazing week where I met hundreds of new people, a fraction of which I remember their names, I networked with tons of vendors and found a potential backup solution for one of my clients, I learned all about the new software coming out soon from Microsoft and I got to have one of the most exciting experiences of my life.
Please keep on eye on my blog for some more #TheKrewe specific posts!
Check out my pictures from TechEd on My Skydrive!