I know I am late to the game, Ignite ended over a week ago! I would just like to share my perspective on how the week went, as it was quite different than I am used to. This year I went to Ignite as Staff, I've never worked a conference, let alone one the size of Ignite.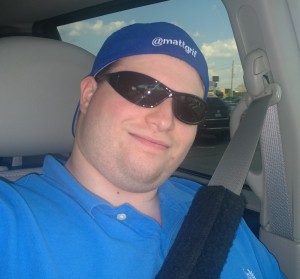 My week of Ignite actually started quite early, I arrived Friday May 1st in the evening to Chicago. My first thought it holy cow I'm going to hate Chicago, they had the NFL Draft going, and traffic was crazy. I've been to Chicago before but did not remember how much traffic there was! After missing a turn and adding an additional 20 minutes to my 2 1/2 hour drive from Indianapolis I was ready to unwind in the hotel. Check-in was fairly easy, aside from the long wait to check in.
After settling in, it was time for some food – after all it was Chicago! We decided to head over to Giordano's – Famous Stuffed Pizza. I've been to one before in Indianapolis and I knew it was good, plus I had to start my week with stuffed pizza! I was wanting something meaty so we went with the "Meat & More Meat" Stuffed Pizza, also got a side of their cheesy garlic bread. I have to say it was the best cheesy garlic bread I've ever had!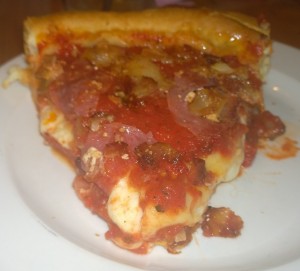 After dinner I headed back to the hotel and crashed, I had a huge week ahead of me. Saturday started nice and slow, I picked up my badge at the Microsoft Store in Chicago, grabbed a coffee and once it was time I attended the MCT Day 2015, and it was quite fun. I got to hear from some very intelligent people and tour the Chicago Microsoft Office! During the MCT Day I won a Western Digital My Cloud EX2. Once MCT Day was over it was time for the first social event of the week. We went to Buddy Guy's and it was a very neat venue, they have their own 'Buddy Brew' which is a fantastic beer!
Sunday rolled around and it was time for me to go to the convention center. This is the day I got to try out my Ventra CTA Pass. I live in Indianapolis, we are known for having notoriously bad public transit. I had heard mixed feelings about Chicago Public Transit, and I just have to say in the week that I was there it was fantastic! It would had been even better had I not made a stupid mistake and got on the wrong bus on my first try! To get around Chicago I used the HERE Transit Windows Phone App and it was amazing! Once I got to the convention center, I did a bit of exploring before I went to my training for working the Hands On Labs, where I got my extremely stylish hat that I was honored I got to wear all week!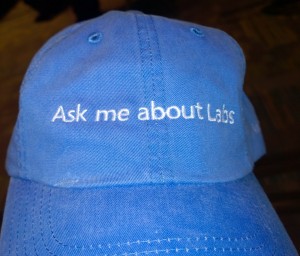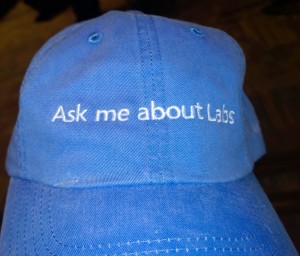 That evening was TheKrewe Meet 'N Greet, at Kaiser Tiger – the best party for the week. Kaiser Tiger specializes in Bacon and Beer tastings. They pair different beers with different kinds of bacon. It had some of the best food the entire week!
Monday was the start of it all. There were lots of sessions, lots of content, and lots of people. So let's jump into the Good, the Bad and The Ugly. I want to note that 'The Bad' really isn't all that bad, it is the small things that could have been improved on. 'The Ugly' are the things that seriously hindered the experience.
The Good
Overall I was fairly happy with the event, I got everything I was hoping to get out of it. For example, I attend this conference for the networking opportunities you cannot get anywhere else. With the size of the conference it was more than easy to meet countless people!
The sessions I attended, were quite good and I was very happy with every single one that I went to! In addition to the sessions, I was pleasantly surprised by the Hands on Labs. I may be a bit biased in this area since I worked the Hands on Labs this year, but there was only 1 major hiccup where the labs went down, and it was a short one. The labs ran smooth and there was some great content in the labs covering the gamut of technologies.
Satya! Microsoft finally listened and brought the CEO of the company to give attention to the IT Pro's that push their product and manage their product in environments big and small. During the keynote no major announcements were made, but it was great to hear from Satya. In addition to the keynote, I can't forget to mention the quality of the online streaming. Not only was it running flawlessly, it had some fantastic 'pre-show' commentary thanks to the people at Channel 9!
Now before I dive into the bad and ugly, I wanted to call out how quickly the Event Team was responding to issues and making changes. I know it is a big challenge keeping 23,000 people happy, and they put in a full effort to make sure everyone was taken care of.
The Bad
As everyone very loudly voiced (me included) the conference food this year was BAD! This was very disappointing for a city that has so many food options, after having been to New Orleans where the food was phenomenal. In addition to the food I know a lot of people had problems with the event security. I didn't have to experience this nearly as much as others as I had a Staff Badge that kept them fairly quiet to me.
The travel time between the hotel and the conference was bad! I am used to in years past staying extremely close to the conference center as an attendee, since this year I was working the conference I had to register extremely late, this made for my hotel to be quite far away. Over all this is a problem with the city of Chicago, it is simply so big and the hotels for 23,000 people are not as close as we would all hope to be.
The Ugly
Now this section, I've saved for things that really bothered my conference experience and I was quite unhappy about. The first thing is the distance between sessions that I wanted to attend. I know the people walking were very unhappy about it, but at least they could push themselves to make it between the sessions. With me being in a wheelchair I am strained by the battery life of my wheelchair. If I wanted to attend the evening events for networking I had to miss a lot of sessions I would have liked to be at.
In addition to the distance between the sessions, is the overall layout of the convention center is not very accessible. For me to get from 1 part of the conference center to another part I had to take 2-3 different elevators – and that is when I know exactly which elevators to take. God help me if I take the elevator to the first floor of the North Building and want to go to the 1st floor of the south building.
My last complaint is one that the Event Staff were very responsive on, so I want to make it clear that this was resolved during the week. Again, being in an electric wheelchair I require some special accommodations, such as handicap accessible transportation. On Sunday I was planning on taking the shuttle back to the hotel, it took an hour for the handicap shuttle to be available as they only had one. Once it arrived it took the bus driver an additional 20 minutes to get the lift working, he claimed the weight of my chair was too much for it. I disagreed as I've used this chair on plenty of lifts and never had issues. I told him they needed to repair this lift before picking me up again. I never saw that shuttle the remainder of the week.
After that escapade the transportation staff had asked me to provide a schedule of times I wanted to be picked up for the entire week, if you have never been to a conference like this before you would know how challenging it is to stick to a schedule. I was forced to, this made me quite unhappy but I complied. The next morning I was picked up on time, and got to the convention center without issue – YAY problem solved! Wrong! When I was heading back to the hotel that evening my driver had no idea how to operate the lift. After 20 minutes of him messing around with it, he realized he had to turn it on!
Tuesday morning rolls around. I'm supposed to be picked up at 8am, I get down there on time and no shuttle. No problem everyone is late occasionally so I speak with the volunteer staff working the conference and she calls in letting them know I am waiting. She was told 15 minutes – no problem. 30 minutes rolls around, no shuttle. At this point I'm quite unhappy and vocalize it on Twitter. I didn't get picked up until about 9AM, luckily I wasn't working a morning shift that day. I do want to give a shout out to the CRG volunteer Ginny who was quite fun to chat with while I waited and helped ease the terrible experience.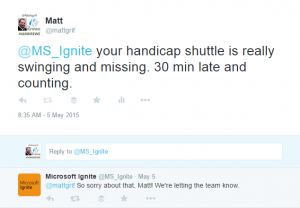 The next morning I had a shuttle show up on time, being one of the nicest guys ever. I was thrilled to see they corrected the issue and I didn't have any more the remainder of the week. This was by far the worst experience the entire week and Microsoft was very responsive in correcting it. There is nothing further they could do, unless they can somehow time travel and stop it before it happens!
Summary
Overall I want to call out that there have been a lot of people saying that they may not come back to Ignite next year, my response to that is get real. You couldn't have done any better than what they did. It was a bit rocky, but this was also the first year where they had multiple technology conferences merged into one and hosted 23,000 people!
I look forward to coming back next year, and look forward to see the creativity and passion that the event staff will be putting into the event.