Now I know this is an IT focused blog, but it is also my personal blog and I feel like cooking is big chunk of what I enjoy doing in my free time. Recently I've crafted a couple of my own recipes that I feel I'd like to share with everyone. I'll admit some of the ingredients I found in other recipes but I did add additional things/adjusted measurements and in some cases combined two different recipes. The two I would like to share today include Matt's Christmas Balls and Matt's Bacon-Wrapped Jalapeño Poppers.
Lets start with my favorite and newest recipe!
Matt's Bacon-Wrapped Jalapeño Poppers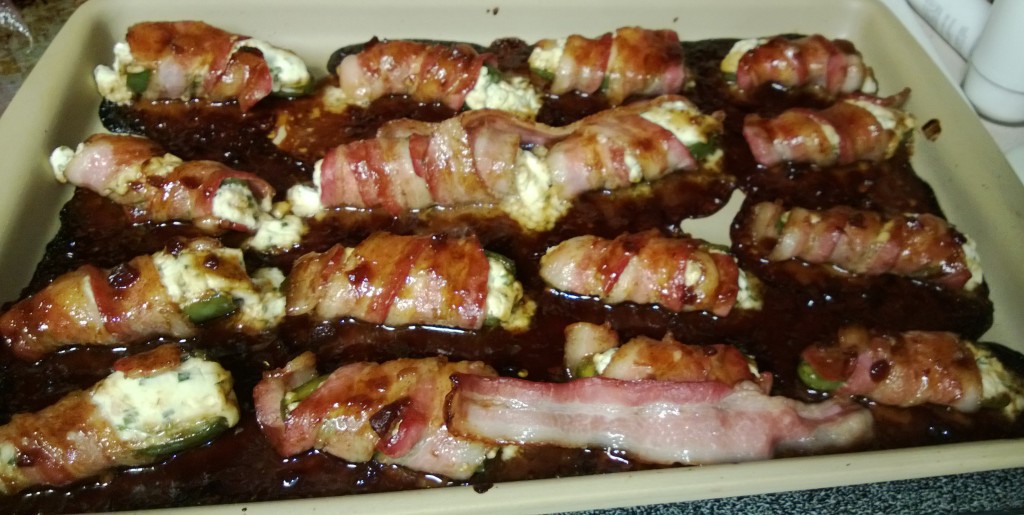 Ingredients
(8) 2-3″ Jalapeño's
(1) bottle of Red Bone Alley Pineapple Ginger Teriyaki
(4) tablespoons of fresh chopped chives
(1) 8 oz. Philadelphia Cream Cheese – Softened
(1) 12 oz. package of center cut bacon
(16) Toothpicks
(2) plastic non-powered gloves
 Directions
Warning:

Wear gloves while handling jalapeño's
Wash outside of jalapeño's
Cut stem and slice jalapeño's in half
Cut out the seed and membrane from the jalapeño's
Be sure to wash all of the seeds off of the jalapeño's
Place in plastic bag and let marinate with the entire bottle of Red Bone Alley Pineapple Ginger Teriyaki, place in refrigerator.

Note:

How long you let it marinate is at your discretion, overnight would be ideal I just did an hour on my first attempt.

Place softened cream cheese and 4 tablespoons of fresh chopped chives in small mixing bowl, mix until it looks like it is consistent throughout.
Preheat oven to 375

Warning:

This gets messy
Fill the marinated jalapeño's with the cream cheese and chives mix, wrap with an entire slice of bacon, top with a little bit of the teriyaki sauce and place on baking pan

Note:

I used stone ware for my cooking so depending on your tray baking times will vary.

Once all jalapeños are completed use remaining teriyaki sauce and top all of the poppers
Bake for 25 minutes
Insert toothpicks into each popper and consume while warm!
Matt's Christmas Balls
Ingredients
(2) Green Onion Bunches
(3) packets of Carl Buddig Beef
(2) 8oz. Cream Cheese – softened
Garlic Powder – Guesstimation
Directions
Chop the green onions into medium mixing bowl
Slice beef into cubes, separate the bunches as you dump into bowl
Add all Cream Cheese
Begin to mix together, add your guesstimation of garlic salt (My guess is I use about 3-4 tablespoons)
Once mixing is complete shape into two small balls and place next to each other, serve with your choice of crackers