TechEd has come, and TechEd has gone… there were some cool announcements and some disappointments in the overall conference. Let's start with the cool announcements and fun things that did happen at Microsoft TechEd 2014.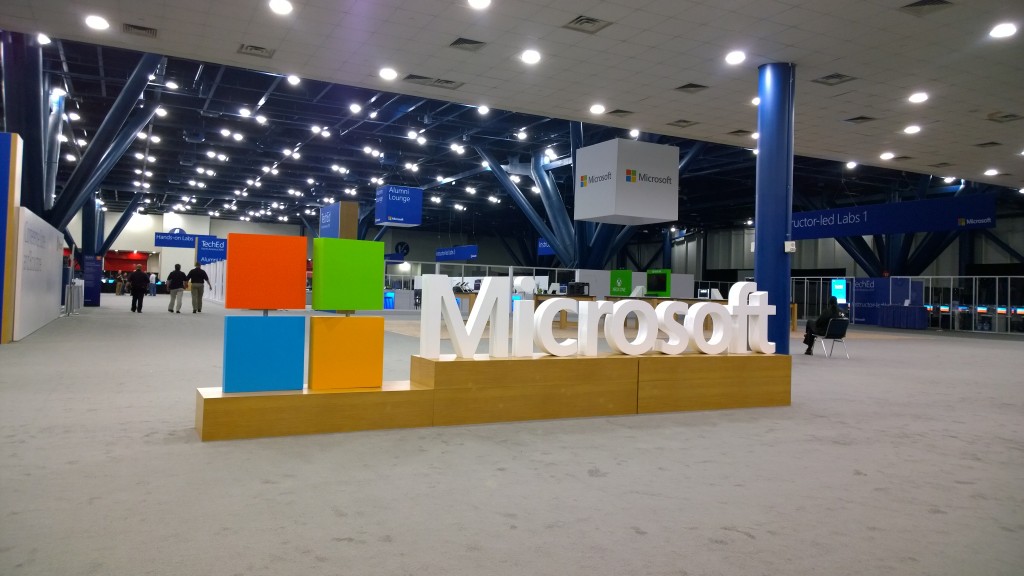 Some of the Cool Announcements:
Throughout upcoming blog posts we will explore these in more depth.
Microsoft Azure ExpressRoute
Microsoft Azure Files
New Virtual Machine Sizes (A8/A9)
Azure Site Recovery
Azure RemoteApp
PowerShell Get
Desired State Configuration with Linux
Jeffrey Snover's JEA (DSC Resource)
Fun Things That Happened (For Me):
TechEd is a fantastic opportunity for new announcements and learning really cool things. However there is an additional benefit that a much smaller percentage of the TechEd attendees realize and take full advantage of and that is the social aspect of TechEd. When I initially started going to TechEd I thought of it as the cool parties to get free food and beer, over time that has evolved into much more, surrounding networking with other professionals in the field and making strong connections to people that I talk with year around. This year I believe I had the most exciting encounters during TechEd including on Sunday Night having a conversation with Jeffrey Snover, the father of PowerShell. It was about a 10-15 minute conversation but it was still a very cool experience to have met and socialized with Jeffrey about things outside of PowerShell including what #TheKrewe is, and how we exist.
Later on in the week, on Tuesday night at the Aquarium, I had a short encounter with Mark Russinovich, which is every nerds dream come true. We didn't really talk about anything, just praised him for the most part and I got my picture with him!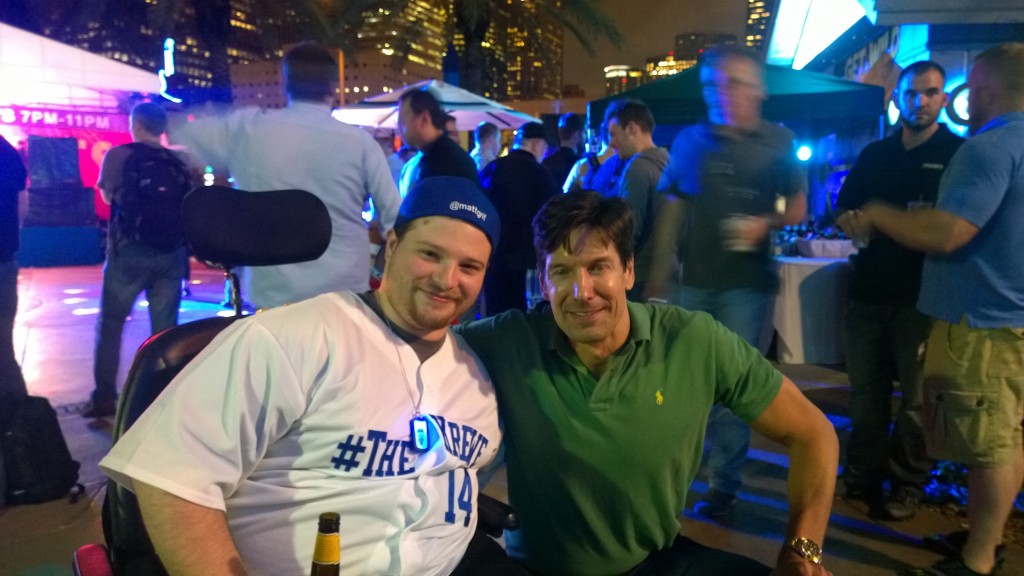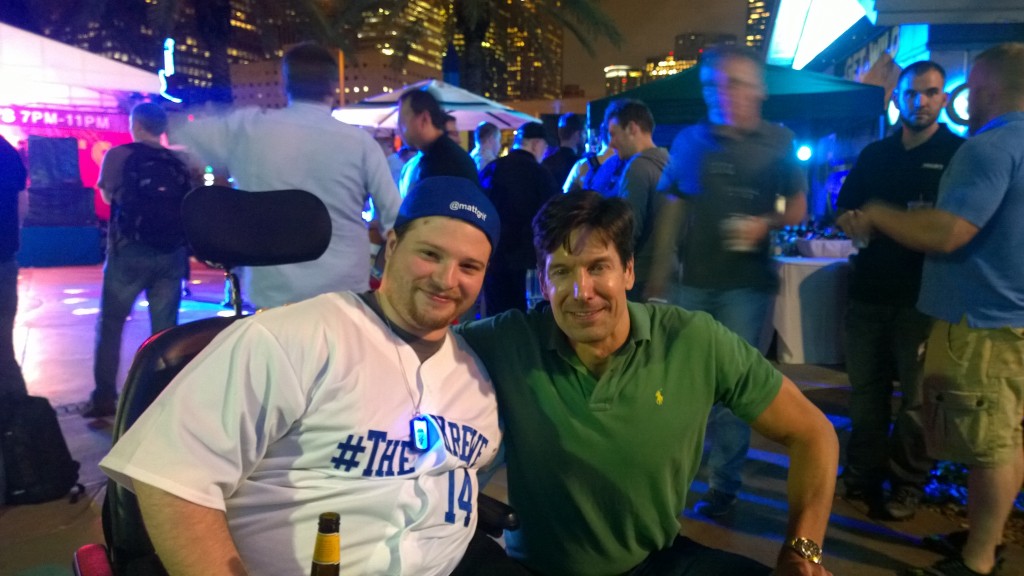 Throughout the rest of the week I was able to socialize with many other friends who I've met over the years and catch up on their happenings over the last year or so since I had seen them.
Some of the Disappointments:
This is my 4th time attending TechEd so I feel that I have a good baseline that I can compare this years to. I've made it clear to some of the organizers and I've detailed in great depth on the survey that was sent out my concerns. I do feel it is appropriate to share some of these publicly too so that everyone is aware of where TechEd excels and has had difficulties.
The Host City
In 2013 when Houston was announced as the host city I heard a few complains but nothing that concerned me too much. I must agree that overall Houston was a poor selection for the conference as most of the evening events were quite spread out, which requires a Taxi… when you are in an electric wheelchair Taxi's become a massive headache to coordinate and wait for.
On top of the issue of venues being quite spread out, Houston also has a major homeless problem. I understand it is sometimes impossible to avoid such hard times and that it is a very challenging situation for the homeless families. However my experience with the homeless population in Houston was very uncomfortable by having a homeless person following a group of 3 of use for 2 blocks asking for money.
The Venue – Hotels Included
Before TechEd even started I heard a lot of people complaining about hotels being sold out – bad way to start this event. The first day of TechEd there were some attendees coming from conference hotels that took 45+ minutes to get to the convention center. Once they got to the convention center they were greeted by horrible foot traffic within the convention center. I am not sure if the foot traffic was a failure of the convention center layout, or if it was because of the overall traffic management from the hotel staff – more details on that to come.
The conference center had more issues than just moving people from point A to point B, during the lunch rush they were having a hard time keeping the food lines covered, it appeared that they were not correctly estimating when they needed to open more food lines to handle the amount of people that were coming in. I understand that it is a crazy event to feed 10,000 people within one hour, but in years past this hasn't been an issue. On top of being unable to keep the food stocked, the quality of the food was much lower than it has been in years past. I know a handful of people who decided to skip the food at the conference and go out to local restaurants, and by local I mean a good 15+ minute walk since the city was so spread out.
The Staff
This is from firsthand experience on Sunday and on Monday. Sunday afternoon, I was going to lunch during the pre-con, I was on the second floor, and went down to Hall B (Lunch was designated as Hall A and Hall B) I was heading for the elevator (Note: Electric Wheelchair) and the Security personnel flat out told me I could not use the Elevator, I ask what elevator I was supposed to use and I was told any elevator but this one, continued talking in a calm manner asking which one because lunch is in Hall A and Hall B. After about a minute or so of back and forth she finally told me to go to the Hall A elevator.
The next day, before the Keynote we were heading out from Breakfast which was in Hall A, we were going out the doors and the security guard told us (me and three other people) that we could not exit the doors for the elevator (keep in mind there was massive amounts of people exiting 5 doors down in the same hall going straight up the escalators) after some back and forth she ask us to wait a minute which she talked to her manager who finally let us utilize the elevator.
Luckily throughout the remainder of the week we had no issues with being refused service on specific elevators as by the second event I was very unhappy with their attitudes towards people with disabilities.
The Lack of Discount/Gift
I feel slightly selfish complaining about this. Keep in mind this is absolutely a first world problem. When I first started attending Microsoft TechEd you received a free TechNet Subscription for the year (Excellent benefit as it gave me licenses to every Microsoft product to evaluate and test with) Last year right before TechEd they announced they would not be giving out a TechNet Subscription, lots of complaints; but they made up for it by the week before TechEd announcing discounts on the Microsoft Surface RT and Microsoft Surface Pro. This was excellent, I already had a Surface RT but was really wanting a Surface Pro. During TechEd I was able to pick up a Surface Pro for $400.
This year, no announcement was made of discounts, I held out hope right up until Sunday hit. At that point I knew it was highly unlikely we were going to get anything, but maybe they would do the surprise during the Keynote like had been done during Microsoft Build just a month prior to this event. During Microsoft Build attendees were given an Xbox One and a $500 gift card to the Microsoft Store online. Nothing was announced, TechEd was not gifted anything with the registration costing the same as the Build Registration
The Keynote
The final disappointment I had was about the Keynote, all we heard about was Azure and a few Office 365 announcements. There wasn't a single announcement about the next version of Windows, the next version of Windows Server, or any other Microsoft Product. The only items that were mentioned were surrounding Azure, which is a cool service; but not many people are using it in contrast to how many people use the on premise products. Then to continue the slap on the face, just a week after the TechEd keynote Microsoft had a Surface event where they announced the Surface 3. This could have been included in the TechEd keynote to at least give the attendees of TechEd something cool to experience.